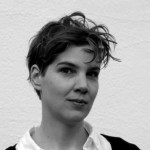 MAIN FIELDS OF RESEARCH
Border Studies
Post-colonial Studies
Gender und Affect Theory
APPOINTMENTS
2016 Junior professor for media theory, Academy of Fine Arts, Munich
2014-2016: wissenschaftliche Mitarbeiterin im Exzellenzcluster Bild|Wissen|Gestaltung, Humboldt-Universität Berlin
2011 – 2013: Geförderte Stipendiatin im DFG-Graduiertenkolleg "Gender as a Category of Knowledge"
2008 – 2011: Assistentin am Institut für Zeitgeschichte in Wien am Schwerpunkt für "Visuelle Zeit- und Kulturgeschichte" 2008 Abschluss Magister Kultur- und Medienwissenschaft an der Humboldt-Universität 1999-2001 Studium der Visual Arts am Bennington College, Vermont (USA) Abschluss BA
HIGHER EDUCATION
2015: Promotion in Kulturwissenschaft an der Humboldt Universität Berlin "Affective Images of Post-Apartheid. Documentary Perspectives on Migration, Xenophobia and Gender in South African Film and Photography".
PUBLICATIONS
• Kesting, Marietta (2017): Affective Images of Post-Apartheid, Post-Apartheid Documentary Perspectives, SUNY Press, Albany, NY, peer-reviewed, will be published in Dezember. http://www.sunypress.edu/p-6472-affective-images.aspx
• Kesting, Marietta & Kristina Pia Hofer (hrsg.) 2017: "Dated Formats Now: Material Practices in Audiovisual Art", FKW # 61, Zeitschrift für Geschlechterforschung und visuelle Kultur.
• Kesting, Marietta (2017): "Performing Histories with Obsolete Media-The Example of a South African Photo-Film", in Alphaville, Issue 12, Winter 2016/17 http://www.alphavillejournal.com/Issue12.html
• Kesting, Marietta (2017): "Operative Porträts und die Spuren von Körpern – Über die Konstruktion pikturaler Evidenz", in: Bildwelten des Wissens, 2017.
• Kesting, Marietta & Sophia Kunze (hrsg.) (2017): Darkrooms – Räume der Unsichtbarkeit, Neofelis.
• Photographic portraits of migrants in South Africa: framed between identity photographs and (self-) presentation. In: Social Dynamics: A Journal for African Studies. (Peer reviewed journal), 2014.
• Migration Zu-Sehen-Geben. Strategien der Sichtbarmachung in zwei südafrikanischen Dokumentarfilmen. In: Zooming in and out. Produktionen des Politischen im neueren deutschsprachigen Dokumentarfilm, hg. v. Aylin Basaran, Julia B. Köhne, Klaudija Sabo, Wien 2013, S. 39 – 51.
• Bilder der Migration – Europa und die Anderen. In: Kulturanalyse im zentraleuropäischen Kontext, hg. v. Daniela Finzi, Ingo Lauggas, Wolfgang Müller-Funk u. a., Tübingen 2011. S. 45 – 58.
• zus. m. Aljoscha Weskott (Hg.): Sun Tropes – Sun City and (Post-)Apartheid Culture in South Africa, Berlin 2009. • Politik und Sichtbarkeit in Johannesburg. »Wohlstandsgefängnis« und »Ghettoisierung« unter dem Primat der Sicherheitsfrage, Berlin/Wien 2009.

• "Goldene Zitronen: Race, Klasse und Gender in Beyoncés Lemonade", Vortrag bei der Konferenz, "Hegemoniekritisch und Hartgesotten" im ICI 19.1.2017.
• "Mit Sun Ra ins Omniverse, eine planetarische Exkursion", Vortrag über afrikanischen Futurismus in Musik, Theorie und Kunst, Lothringer Str. 13, Kunstraum der Stadt München, 6.9.2016.
• "Identifizierung, Vermessung und Mapping von Körpern" im Rahmen des Symposiums "Virtualität und Abstraktion: Über die Effekte von Abstraktionen im Feld des Sichtbaren", HFBK, Hamburg, 6.2.2016.
• "The Photo-ID, Constructing Pictorial Evidence of Bodies" bei der internationalen Konferenz "Picturing the Body in the Laboratory", Humboldt-Universität, Berlin, November 2015.
• "Drive-In Theatre/Autokino" – Publikumsgepräch mit dem südafrikanischen Künstler Brent Meistre im freien Radio Bermudafunk, im Rahmen der 18. Schillertage, Nationaltheater Mannheim. 13. 6. 2015.